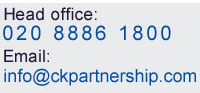 Call us now on 020 8886 1800
---

Contact us
Contacting us is easy. Simply use one of the following to get in touch and we will get back to you as soon as we can.
Head office:
CK Partnership
1 Old Court Mews
311 Chase Road
London
N14 6JS
Telephone: 020 8886 1800
Email:
Map:
Central London office:
424 Linen Hall
162-168 Regent Street
London
W1B 5TD
Telephone: 020 7837 3003
Email: info@ckpartnership.com
Map:
Alternatively, use the form below to email us.
CK Partnership Ltd
Company Reg No. 03122903 Registered in England and Wales
Membership: ICAEW
---
---